Welcome back to Special for Sundays!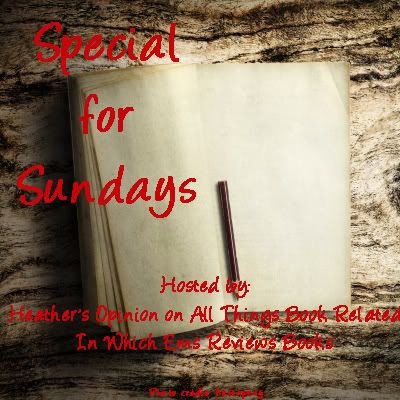 Special for Sundays
is an original feature, created by Heather of '
G

abbing About Books
' and Ems of '
In which Ems ReviewsBooks'
. We'll rotate each week through various subjects, as follows:
1st Sunday: One of your Favorite Books and why is it so special to you
2nd Sunday: Two books that everyone must read and why
3rd Sunday: One of your Favorite Authors and why you pick their books up again and again
4th Sunday: A book on your TBR list, why you picked it, and when do you hope to read it
5th Sunday (on the rare occassions): Random book we have read and a quickie review.
We hope you'll join us for this fun feature!
Picking just one book to feature from my massive TBR list is pretty much an impossible task. I'll give it the old college try though.
Let's talk a little bit about
Inheritance
by Christopher Paolini.
I'm not gonna lie...I'm a little nervous about it. I've heard so much about it, both good and bad. Friends have loved it and friends have hated it. I've been in the middle on the entire series, but because I really have this thing about finishing a series, I thought I'd better give it a go.
See, when I first picked up
Eragon
, I put it down nearly as quickly as I'd picked it up. I felt like it read like a piece of bad fanfiction and I just wasn't interested. By chance, I ended up watching the movie and actually enjoyed it (I know, I know...don't judge my taste in mindless entertainment). I decided to give the book another shot and enjoyed it more the second time around. I found out later that the author was a teenager, which made a lot of sense. I figured that he (and his writing style) would mature with time and get better. I thought that it did, with the second and third books. With what I've heard about
Inheritance
, I'm scared! From some, I've heard that it's just a really long info-dump and from others, that it ties things up nicely.
In any case, even though I'm scared to death, I'm going to give it a fair try and make up my own mind about it. And no matter what I end up thinking, I'll be keeping it because I can't have an incomplete series sitting on my shelf (see:
Fire
)!
What's on your TBR list?