Welcome back to Special for Sundays!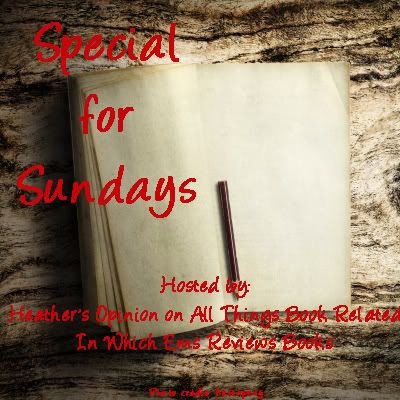 Special for Sundays
is an original feature, created by Heather of '
G

abbing About Books
' and Ems of '
In which Ems ReviewsBooks'
. We'll rotate each week through various subjects, as follows:
1st Sunday: One of your Favorite Books and why is it so special to you
2nd Sunday: Two books that everyone must read and why
3rd Sunday: One of your Favorite Authors and why you pick their books up again and again
4th Sunday: A book on your TBR list, why you picked it, and when do you hope to read it
5th Sunday (on the rare occassions): Random book we have read and a quickie review.
We hope you'll join us for this fun feature!
I've just finished reading Spell Bound, the final book in the Hex Hall series by Rachel Hawkins. Let's do a quick review, shall we?
Synopsis:
Just as Sophie Mercer has come to accept her extraordinary magical powers as a demon, the Prodigium Council strips them away. Now Sophie is defenseless, alone, and at the mercy of her sworn enemies—the Brannicks, a family of warrior women who hunt down the Prodigium. Or at least that's what Sophie thinks, until she makes a surprising discovery. The Brannicks know an epic war is coming, and they believe Sophie is the only one powerful enough to stop the world from ending. But without her magic, Sophie isn't as confident.
Sophie's bound for one hell of a ride—can she get her powers back before it's too late? (Source: Goodreads)
I've been a fan of this series since it came out back in 2010. I find Ms. Hawkins' writing so incredibly easy to get into. I was sucked in from the first page of Hex Hall.
Things continued to go well with Demonglass, the second book in the series. I didn't think it suffered at all from second book-itis.

Then we come to the final book, Spell Bound. I always wonder what the culmination of a favorite series is going to look like. In this case, it's more of the same awesome that made me a fan in the first place.

I love how Rachel writes her characters. Sophie is the perfect blend of sarcastic teenager and trying-to-be-mature spawn of a demon. (Wow, that doesn't sound very complimentary, does it?) She pulls it off and leaves the reader cheering for her the whole time. Well, she does if the reader in question is me, which it was in this case. (I may or may not be suffering from a severe lack of sleep, so bear with me in my strange ramblings this time around)

I really like the character interaction and how they all fit together. Really, I couldn't picture this series without any of them. They're all there for a purpose and it works perfectly.

I loved the story too. It could be a lot like any other supernatural boarding school, but I think the characters keep it from descending into the same-ness that it could have gone into. Also, Sophie has AWESOME parents. Yes, you heard it here. There is a series with awesome parents in it! They've got their quirks, but in the end, they're fantastic. I LOVE reading about solid parental figures. I think YA needs more of that. So kudos to Ms. Hawkins for staying away from the completely dysfunctional family trope.

Overall, this book (and series) earns 4 Eiffel Towers from me for being super fun and a series that I'll read again.



Content Advisory:
Language: Moderate
Sexuality: Mild
Violence: Moderate/Heavy-ish