Welcome back to Special for Sundays!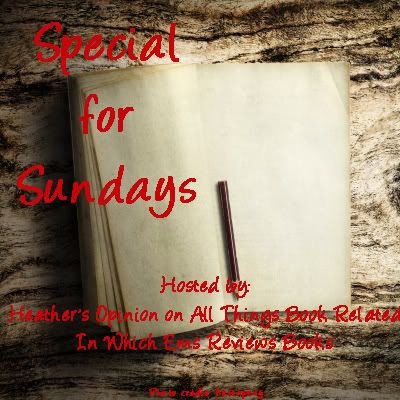 Special for Sundays
is an original feature, created by Heather of '
G

abbing About Books
' and Ems of '
In which Ems ReviewsBooks'
. We'll rotate each week through various subjects, as follows:
1st Sunday: One of your Favorite Books and why is it so special to you
2nd Sunday: Two books that everyone must read and why
3rd Sunday: One of your Favorite Authors and why you pick their books up again and again
4th Sunday: A book on your TBR list, why you picked it, and when do you hope to read it
5th Sunday (on the rare occassions): Random book we have read and a quickie review.
We hope you'll join us for this fun feature!
We're back to the TBR list this week. I feel like my list is breeding these days. I weed it fairly regularly, because it stresses me out to have books there that I KNOW I'll never actually get to, but it's still growing like crazy.
Here are two books that I added recently:
In the Bag, by Kate Klise. I saw a review on Charming Chelsey's blog and it looked like the sweetest book. I love that it mixes adult and young adult elements. I probably won't get to it this year, but I'm hoping to put it in my currently reading bag after student teaching next winter.
Incarnation, by Emma Cornwall. I've been seeing this one EVERYWHERE. I added it because it has all the elements that I love: steampunk, London, vampires...plus, DRACULA and Bram Stoker. If you want to know, Stoker's Dracula is my VERY most favorite vampire novel EVER. I'm super excited to see how this all works together. I'm hoping to get my hands on a copy this fall.
There are my picks. What are yours?