Welcome back to Special for Sundays!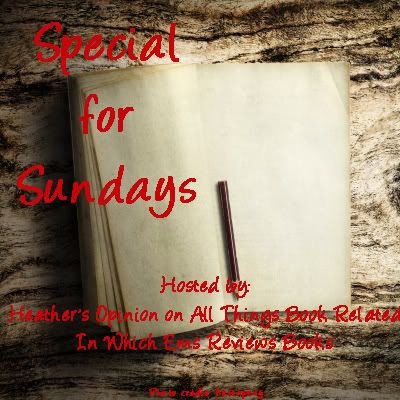 Special for Sundays
is an original feature, created by Heather of '
G

abbing About Books
' and Ems of '
In which Ems ReviewsBooks'
. We'll rotate each week through various subjects, as follows:
1st Sunday: One of your Favorite Books and why is it so special to you
2nd Sunday: Two books that everyone must read and why
3rd Sunday: One of your Favorite Authors and why you pick their books up again and again
4th Sunday: A book on your TBR list, why you picked it, and when do you hope to read it
5th Sunday (on the rare occassions): Random book we have read and a quickie review.
We hope you'll join us for this fun feature!
This week, I get to tell you about two books I think you REALLY need to read and why I think you should read them. I'm going to cheat a little bit and do a one-book collection of two novellas.
You may or may not remember that the River of Time series by Lisa T. Bergren is one of my absolute favorite series. Well, because Ms. Bergren is seriously awesome, she wrote two novellas to go along with the series. Bourne/Tributary was just released in paperback, and I just HAD to have a copy. I already had both books on my Kindle app, but hello, the pretty needed to be on my shelf.
Bourne starts right after Torrent finishes, and continues the story. It's told from alternating POVs, with the narrator listed at the beginning of each new chapter. Normally, I dislike alternating POV, but it works here. Plus, I loved getting more into Lia's head and hearing her thoughts. Seeing Luca from her POV wasn't a bad option. :D
Then Tributary picks up a year after Bourne. The focus is still more on Lia, with other POVs interspersed. I especially loved getting more into Lord Greco's (swoon!) story. I might have mentioned that I have a seriously huge crush on him. He may or may not star in my daydream fantasies, with a heavy emphasis on OH YES HE DOES. I gotta tell you...I LOVE this man. Seriously love him. Getting more on him was heaven for me.
(Also,
this
is how I picture Lord Rodolfo Greco...sweet mother of everything good...)
I love the story, I love the time-travel element, I love the setting (medieval Italy!), I love Lisa's writing style...is there anything about these books that I don't love? Oh yes...the fact that they don't go on FOREVER. Seriously, I don't think it would be possible to get sick of this story or the characters.
So, do I need to go further to let you know why I think you should read these books?
Yeah, I didn't think so. :D