Welcome back to Special for Sundays!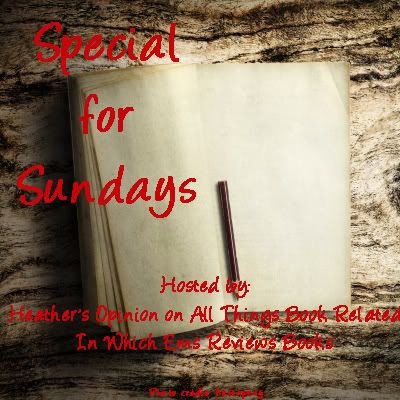 Special for Sundays
is an original feature, created by Heather of '
Heather's Opinion on All Things Book Related
' and Ems of '
In which Ems ReviewsBooks'
. We'll rotate each week through various subjects, as follows:
1st Sunday: One of your Favorite Books and why is it so special to you
2nd Sunday: Two books that everyone must read and why
3rd Sunday: One of your Favorite Authors and why you pick their books up again and again
4th Sunday: A book on your TBR list, why you picked it, and when do you hope to read it
5th Sunday (on the rare occassions): Random book we have read and a quickie review.
We hope you'll join us for this fun feature!
My quick review this week is for Spells, by Aprilynne Pike. You might remember that I read and reviewed Wings not too long ago. You can check out that review HERE.
From Goodreads:
Six months have passed since Laurel saved the gateway to the faerie realm of Avalon. Now she must spend her summer there, honing her skills as a Fall faerie. But her human family and friends are still in mortal danger--and the gateway to Avalon is more compromised than ever.
When it comes time to protect those she loves, will she depend on David, her human boyfriend, for help? Or will she turn to Tamani, the electrifying faerie with whom her connection is undeniable?
And Girl-as-Plant is back in the second installment of the Wings series. This time around though, I was ready. I knew that Pike's faeries were completely different from other faeries out there, so the plant bit didn't throw me.
I found myself enjoying this book a lot more than I did Wings. There was more action and Laurel seemed like she'd matured more. She wasn't as whispery and timid. I liked that she took things into her own hands more.
The story is a lot the same: plant-girl and her friends face mortal danger and get out of it, usually with help from outside. I'm okay with it though. The stakes keep getting raised, so it doesn't feel tired.
The characters are pretty much the same and I felt about the same way as I did in Wings.
This series seems much more plot-driven than character-driven, and I can live with that. At any rate, it's not something that discourages me from continuing reading. Sometimes you just need a nice story, and this is it.
Language: Moderate
Sexuality: Mild
Violence: Moderate
Find Aprilynne online:
Twitter
Facebook
Goodreads
Website