Welcome back to Special for Sundays!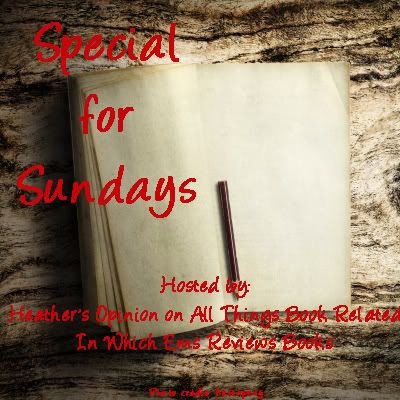 Special for Sundays
is an original feature, created by Heather of '
G

abbing About Books
' and Ems of '
In which Ems ReviewsBooks'
. We'll rotate each week through various subjects, as follows:
1st Sunday: One of your Favorite Books and why is it so special to you
2nd Sunday: Two books that everyone must read and why
3rd Sunday: One of your Favorite Authors and why you pick their books up again and again
4th Sunday: A book on your TBR list, why you picked it, and when do you hope to read it
5th Sunday (on the rare occassions): Random book we have read and a quickie review.
We hope you'll join us for this fun feature!
This week, we're talking favorite books again. I'd like to tell you about the River of Time series, by Lisa T. Bergren. I know I reviewed Waterfall earlier, but I think a discussion on the whole series is in order here!
The series starts off with a bang. It captured my attention and never let go. I've read all the books now, and WHOA. I LOVE them. So much that I've used up all my Amazon gift cards to purchase them. They're books that I'll read over and over.
Here's what I love: Lord Greco.
Gabi, Lia, Marcello, Luca, Adri & Ben, Lord Greco...yeah, I love the characters. They're very well-written and dynamic. They change and grow throughout the series, finally becoming some of my fictional best friends. They're just awesome. I love them all.
Oh, and I LOVE Lord Greco. Have I mentioned that? He is my book boyfriend & I'll go all She-Wolf on the competition. :D
I love that there is time travel involved. Give me a sci-fi romance and I'm yours. So I guess that means that I'm now Lisa Bergren's faithful fan, and YES, I will be picking up her other books. I love the story, the romance, the action, all of it. Remember how my favorite combination is action/adventure/romance? Yep, all of the above here. Fabulous.
I pretty much just love this series.
(and Lord Greco)
Yeah.
What about you? What's a favorite book/series that you'd pick this week? Link up!