Well, the readathon is just about over and I'm reporting on how I did. I know there's still an hour to go, and I'll keep reading until midnight, but I know I won't be able to finish the last book. That's okay. It's ended up being a lot harder to get through than I thought (because it's an e-book, not because I don't like it - I just can't read them as fast), so I'll just keep working on it.
Here are my results:
Finished:
Dante's Girl, Courtney Cole
Degrees of Wrong, Anna Scarlet
Pandemonium, Lauren Oliver
The Serpent's Shadow, Rick Riordan
Progress:
Grasping at Eternity, Karen Amanda Hooper - 68
Started:
Nocturnal, Chelsea M. Cameron - 13
Transcendence, C.J. Omololu - 75
Today's Challenges:
#1: What's your most anticipated release of 2012?
This one is easy for me: Shadow of Night by Deborah Harkness!! I am reading it right now and WHOA. LOVE.
(This challenge was hosted by Christy @ The Reader Bee.)
#2: Match the following list of characters into their best friend groups:
Cassel
Emerson
Hermione
Jessica
Sam
Clary
Harry
Hope
Lily
Simon
This was harder than I thought. Obviously, I'm not going to post my answer here...you'll have to work it out on your own! :P
(This challenge was hosted by Al @ Magnet 4 Books)
Overall, I feel like I did really well in this readathon. I didn't get nearly as much reading time as I'd have liked because of some things that came up, but I'm pleased with how it went. I will definitely participate in the future!
Many thanks to Lori & Candace for hosting!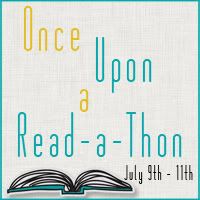 (Also, I'm hosting my own readathon coming up over Labor Day weekend! It'll be Strictly Sequels to help clear our shelves...stay tuned for updates!)