Welcome back to Special for Sundays!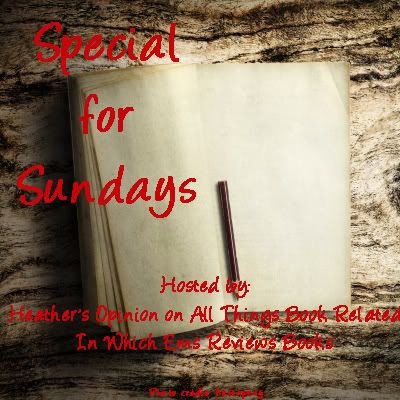 Special for Sundays
is an original feature, created by Heather of '
Gabbing About Books
' and Ems of '
In which Ems ReviewsBooks'
. We'll rotate each week through various subjects, as follows:
1st Sunday: One of your Favorite Books and why is it so special to you
2nd Sunday: Two books that everyone must read and why
3rd Sunday: One of your Favorite Authors and why you pick their books up again and again
4th Sunday: A book on your TBR list, why you picked it, and when do you hope to read it
5th Sunday (on the rare occassions): Random book we have read and a quickie review.
We hope you'll join us for this fun feature!
Let's talk about favorite books this week, shall we?
I think I'd like to tell you a bit about A Discovery of Witches today.
My best friend and fellow bookworm, Kim, recommended this one to me not long ago. She knew that I'd been burned out on vampires for awhile and was looking for something completely non-Twilighty. Read: NO SPARKLY ANYTHING.
She suggested that I give A Discovery of Witches by Deborah Harkness a try.
I reserved it at the library that day, because Kim has never steered me wrong. When it finally came in, it sat on my shelf for a couple of weeks because I was reading several other books at the time. It kept staring at me though, as neglected books are wont to do, so I picked it up and got started.
Holy cow, it never let me put it down. I finished it in just a couple of days. I LOVED it. Oh, how I loved it. It completely vanquished thoughts of unworthy vampires from my head, leaving it full of delicious dreams of Matthew Clairmont. One word: YUMMY.
He is what a vampire SHOULD be. He is my new literary love and I have no intention of letting him go.
I loved the story, the action, the characters, the threats...all of it. It's a fantastic story, and I'm glad I came into it late enough that I don't have to wait ages for the next book to come out. It comes out in July and I've already asked my library to purchase a copy. I hope they'll listen!
You'd be doing yourself a favor by picking this one up. It's got it all...action, love story, sexy times (but not *that* kind of adult sexy times like porn or anything. They keep it pretty low-key), a threat to overcome, a past to embrace. It's awesome. Truly awesome.
What book would you choose?