Welcome back to Special for Sundays!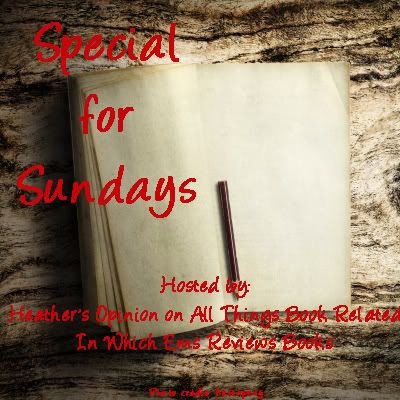 Special for Sundays
is an original feature, created by Heather of '
Heather's Opinion on All Things Book Related
' and Ems of '
In which Ems ReviewsBooks'
. We'll rotate each week through various subjects, as follows:
1st Sunday: One of your Favorite Books and why is it so special to you
2nd Sunday: Two books that everyone must read and why
3rd Sunday: One of your Favorite Authors and why you pick their books up again and again
4th Sunday: A book on your TBR list, why you picked it, and when do you hope to read it
5th Sunday (on the rare occassions): Random book we have read and a quickie review.
We hope you'll join us for this fun feature!
This week, let's talk about a book from the everlasting TBR list. I think I'll tell you all about one of the Jane Austen mysteries, Jane and the Man of the Cloth, by Stephanie Barrows.
Here's a summary, from Goodreads:
For everyone who loves Jane Austen...the second tantalizing mystery in a new series that transforms the beloved author into a dazzling sleuth!
Jane and her family are looking forward to a peaceful holiday in the seaside village of Lyme Regis. Yet on the outskirts of town an overturned carriage forces the shaken travelers to take refuge at a nearby manor house. And it is there that Jane meets the darkly forbidding yet strangely attractive Mr. Geoffrey Sidmouth. What murky secrets does the brooding Mr. Sidmouth seek to hide? Jane suspects the worst—but her attention is swiftly diverted when a man is discovered hanged from a makeshift gibbet by the sea. The worthies of Lyme are certain his death is the work of "the Reverend," the ringleader of the midnight smuggling trade whose identity is the town's paramount mystery. Now, it falls to Jane to entrap and expose the notorious Reverend...even if the evidence points to the last person on earth she wants to suspect...a man who already may have won her heart.
I read the first Jane Austen mystery quite awhile ago, and really enjoyed it. It's nice to be able to read something with Jane as a character (and quite an engaging one too) instead of the author. Don't get me wrong, I ADORE Jane Austen as an author, but Ms. Barrows has created her character to be fun and lively, and I really like that twist.
I'm hoping to read the rest of the series this summer, after I finish this semester and get caught up on review books.