Welcome back to Special for Sundays!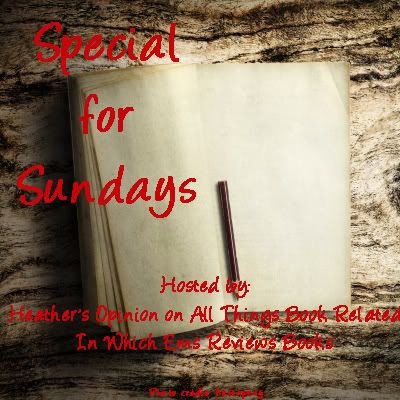 Special for Sundays
is an original feature, created by Heather of '
Heather's Opinion on All Things Book Related
' and Ems of '
In which Ems ReviewsBooks'
. We'll rotate each week through various subjects, as follows:
1st Sunday: One of your Favorite Books and why is it so special to you
2nd Sunday: Two books that everyone must read and why
3rd Sunday: One of your Favorite Authors and why you pick their books up again and again
4th Sunday: A book on your TBR list, why you picked it, and when do you hope to read it
5th Sunday (on the rare occassions): Random book we have read and a quickie review.
We hope you'll join us for this fun feature!
Third Sunday again, so let's talk favorite authors! Today, I'd like to tell you why I love reading Kevin J. Anderson's books.
First, a little about Mr. Anderson, from Goodreads. You can also get a more comprehensive bio on his website:
Pseudonyms: Gabriel Mesta, K.J. Anderson
He has written spin-off novels for Star Wars, StarCraft, Titan A.E., and The X-Files, and is the co-author of the Dune prequels. His original works include the Saga of Seven Suns series and the Nebula Award-nominated Assemblers of Infinity. He has also written several comic books including the Dark Horse Star Wars collection Tales of the Jedi written in collaboration with Tom Veitch, Predator titles (also for Dark Horse), and X-Files titles for Topps.
Anderson serves as a judge in the Writers of the Future contest.
His wife is author Rebecca Moesta. They currently reside near Monument, Colorado.
My first exposure to Mr. Anderson's books was in the Star Wars Expanded Universe. I know, big surprise...I read Star Wars books. :D
I was hooked. There were some new characters that I absolutely fell in love with (Kyp Durron...swoon!) and some that I hated (Admiral Daala!). They were so rich and real and well, REAL.
The story captivated me. It introduced a new level of awesome to the SWEU that I'd been longing for. I was never satisfied with just the movies, so when I discovered that there were BOOKS, I about died. The Jedi Academy books were not only my first experience with Kevin J. Anderson, they were also my first experience with the SWEU. It was love at first read. Since then, I've read all of Mr. Anderson's SW books, including the middle grade series, and I've even ventured outside of his SW books. I read Hellhole last year, and really loved it. I can't wait for the next book in that series, which will hopefully be coming soon.
I love his writing style and I love the way his stories become super real, even though they're set in completely fantastical places. You can't convince me that they're not real, so don't even try. :D
I'll be a lifelong fan and I'm so excited to hopefully introduce some of you to his work!
Find Mr. Anderson online: