Welcome back to Special for Sundays!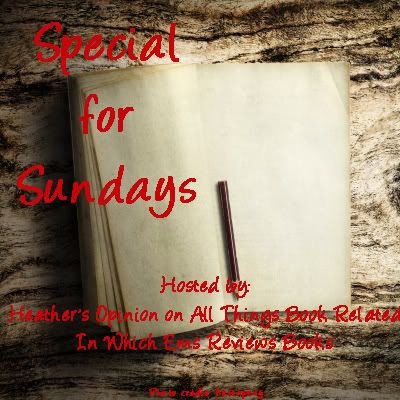 Special for Sundays
is an original feature, created by Heather of '
Heather's Opinion on All Things Book Related
' and Ems of '
In which Ems ReviewsBooks'
. We'll rotate each week through various subjects, as follows:
1st Sunday: One of your Favorite Books and why is it so special to you
2nd Sunday: Two books that everyone must read and why
3rd Sunday: One of your Favorite Authors and why you pick their books up again and again
4th Sunday: A book on your TBR list, why you picked it, and when do you hope to read it
5th Sunday (on the rare occassions): Random book we have read and a quickie review.
We hope you'll join us for this fun feature!
Ready to hear about two books that you just have to read? I'm ready to tell you!
First, Midnight in Austenland by Shannon Hale. I've already given it a full review, so I won't go into too much detail here. But suffice it to say, it's an awesome book and you really should read it. It's delicious.
Here's the Goodreads synopsis:
When Charlotte Kinder treats herself to a two-week vacation at Austenland, she happily leaves behind her ex-husband and his delightful new wife, her ever-grateful children, and all the rest of her real life in America. She dons a bonnet and stays at a country manor house that provides an immersive Austen experience, complete with gentleman actors who cater to the guests' Austen fantasies.
Everyone at Pembrook Park is playing a role, but increasingly, Charlotte isn't sure where roles end and reality begins. And as the parlor games turn a little bit menacing, she finds she needs more than a good corset to keep herself safe. Is the brooding Mr. Mallery as sinister as he seems? What is Miss Gardenside's mysterious ailment? Was that an actual dead body in the secret attic room? And-perhaps of the most lasting importance-could the stirrings in Charlotte's heart be a sign of real-life love?
Really, you should. It's one of my favorite dystopian novels ever, and I'd love it if you read it and loved it too. It's one of those stories that stays with you and makes you wonder if it could ever happen for reals. It's not that far-fetched, I promise!
Anyway, here's the Goodreads synopsis:
A love out of time. A spaceship built of secrets and murder.
Seventeen-year-old Amy joins her parents as frozen cargo aboard the vast spaceship Godspeed and expects to awaken on a new planet, three hundred years in the future. Never could she have known that her frozen slumber would come to an end fifty years too soon and that she would be thrust into the brave new world of a spaceship that lives by its own rules.
Amy quickly realizes that her awakening was no mere computer malfunction. Someone-one of the few thousand inhabitants of the spaceship-tried to kill her. And if Amy doesn't do something soon, her parents will be next.
Now Amy must race to unlock Godspeed's hidden secrets. But out of her list of murder suspects, there's only one who matters: Elder, the future leader of the ship and the love she could never have seen coming.
So what are you waiting for? Head on out and pick these up!