Welcome back to Special for Sundays!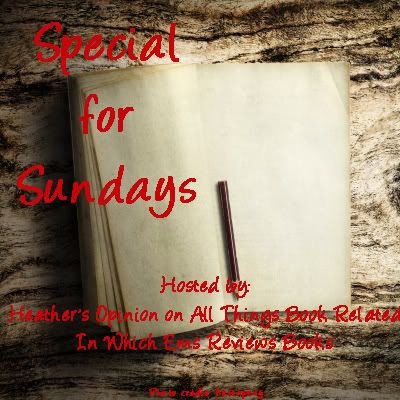 Special for Sundays
is an original feature, created by Heather of '
Heather's Opinion on All Things Book Related
' and Ems of '
In which Ems ReviewsBooks'
. We'll rotate each week through various subjects, as follows:
1st Sunday: One of your Favorite Books and why is it so special to you
2nd Sunday: Two books that everyone must read and why
3rd Sunday: One of your Favorite Authors and why you pick their books up again and again
4th Sunday: A book on your TBR list, why you picked it, and when do you hope to read it
5th Sunday (on the rare occassions): Random book we have read and a quickie review.
We hope you'll join us for this fun feature!
This week, I'm going to talk about a book on my TBR list.
Everyone, and I do mean EVERYONE, has been talking about how amazing Incarnate is. Apparently, Jodi Meadows has created a masterpiece. Well, I'm not one to let a masterpiece slide, so I've got a copy on the way. It's been shipped, so I wish it would hurry up and get here! I'm DYING to get started!!
New soul
Ana is new. For thousands of years in Range, a million souls have been reincarnated over and over, keeping their memories and experiences from previous lifetimes. When Ana was born, another soul vanished, and no one knows why.
No soul
Even Ana's own mother thinks she's a nosoul, an omen of worse things to come, and has kept her away from society. To escape her seclusion and learn whether she'll be reincarnated, Ana travels to the city of Heart, but its citizens are afraid of what her presence means. When dragons and sylph attack the city, is Ana to blame?
Heart
Sam believes Ana's new soul is good and worthwhile. When he stands up for her, their relationship blooms. But can he love someone who may live only once, and will Ana's enemies--human and creature alike--let them be together? Ana needs to uncover the mistake that gave her someone else's life, but will her quest threaten the peace of Heart and destroy the promise of reincarnation for all?
(synopsis and picture from Goodreads)
Looks awesome, huh?! I haven't heard a single negative thing about it. I'm totally excited!